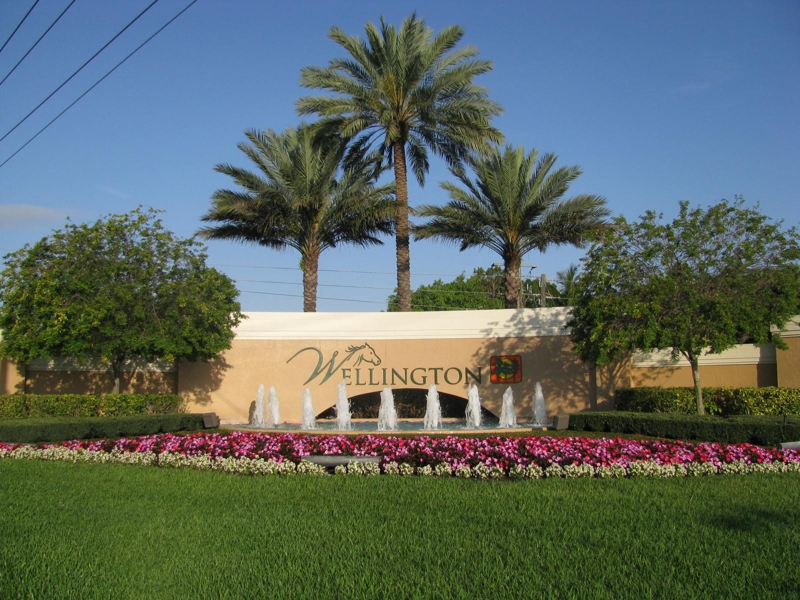 Wellington, Fl. is located in western Palm Beach county, sharing a south-western boundary with the world famous Florida Everglades.  It is known for it's abundant parks, quality schools, attractive neighborhoods and world class equestrian events.
Charles Oliver Wellington purchased Wellington in 1951, but because of its close proximity to the Everglades, there was frequent flooding.  As a result, legislation was passed to transform these wetlands into fertile farmland.  Strawberry fields and Citrus groves were well suited for this land.
Wellington has come a long way since the 1950's.  In fact, it was listed by Money Magazine as one of the Top 50 Places to Live.  It is home to the International Polo Club Palm Beach and The Palm Beach International Equestrian Center, encompassing 150 acres and is the centerpiece of the Wellington winter circuit.  (It is now called USPA National Polo Center - Wellington).
Wellington's rich culture provides plenty of activity for the non-horsey crowd in Wellington.  Choose from fabulous restaurants, unrivaled shopping, including the true shopper's utopia at the beautiful 1.3 million square foot Mall at Wellington Green, and exciting nightlife.  Golfing is popular at the numerous quality courses including Wellington National Golf Club, Wanderers Club at Wellington and the nearby Links at Madison Green.
Wellington is known for large estate quality homes as well as not so large homes for first-time buyers and retirees,  townhouses, luxury apartments and horse farms.
Wellington's nearby attractions include - Kravis Center for the Performing Arts, Norton Museum of Art, South Florida Expo Center, Lion Country Safari, Rapids Water Park and some of the finest beaches along the Atlantic corridor, Lake Worth, Lantana, Singer Island, Juno Beach and Jupiter.
The Palm Beach International Airport located in West Palm Beach is the nearest airport. 
I hope you fall in love with Wellington as I did over 40 years ago.  If you are ready to Create Memories in Your New Wellington Home, give me a call - 561-596-6136.
FOR YOUR CONVENIENCE, I HAVE COMPILED A LIST OF IMPORTANT WEBSITES AND CONTACT INFORMATION FOR WELLINGTON RESIDENTS. AT YOUR CONVENIENCE, CHECK THEM OUT TO DISCOVER MORE ABOUT YOUR HOMETOWN.
Wellington Lifestyle and Business
www.myflorida.com - This is the Official Portal of The State of Florida.  The 'Visitor' section has an enormous amount of information on Attractions, Kids Corner, Nature and Recreation, Professional Sports, History and Culture, Moving to Florida Tips, Health Care, General Information and Registrations.
www.pbcgov.com/stayconnected - Check out the 'Things to Do' tab - you will never run out of things to do with or without the kids in Palm Beach County.
www.wellingtonfl.gov - Wellington's Official website for 'All Things Wellington'. 
Schools
www.palmbeachschools.org - Palm Beach County School Board Website
https://arcweb.palmbeach.k12.fl.us/addresslookup/ - To look up your school zone from the School Board Website by keying in an address or development name.
Recreation
www.internationalpoloclub.com - The International Polo Club sits among equestrian trails and nine polo fields, touted as the Equestrian Capital of the World.  Polo matches are open to the public.  If your children are ages 5 to 10, bring them with you to a Sunday Polo match and drop them off at the Kids Fun Zone.  They'll have a ball while participating in supervised activities. 
www.hoffmans.com - Located at 5190 Lake Worth Road, named by Bon Appetit magazine
as one of America's Best Chocolate Shops.  Your kids will be mesmerized as they watch the confections being made while peering through the observation window.  During the winter season, the Hoffman gardens turn into a winter wonderland with lights and ornaments, making it a 'must-see' attraction during the holidays.
www.palmbeachzoo.org - Palm Beach Zoo is home to some 700 animals from around the world from jaguars, to Koala, to black bear, to tigers and rare tortoise.
www.lioncountrysafari.com - Lion  Country Safari is a 300-acre adventure ground for the family.  The drive-through gets you close to the wild animals, followed by a fun filled amusement park rides, paddle boats, petting and feeding zoo. 
www.southfloridafair.com - The South Florida Fair is a two-week family fun event held in January.  From live entertainment to themed exhibits, livestock and agriculture exhibits.
Shopping
www.shopwellingtongreen.com - The Mall at Wellington Green is a beautiful Mediterranean style architecture. The two-level enclosed mall features some of the most popular and sought after flagship retailers, dine-in restaurants and a Food Court.
www.thegardensmall.com - The Gardens Mall in Palm Beach Gardens is a truly luxurious shopping center featuring fine specialty shops anchored by some of the most high-end department stores.  The Gardens Mall has a reputation for being a world-class shopping destination.
www.cityplace.com - This open-air, Italian inspired downtown public plaza has more than 100 shops and dining options for people of all ages.  The experience is quite unique with a spectacular water-fountain show surrounded by regal palm trees in an open-air plaza. 
www.palmbeachoutlets.com - This shopping destination has a very different retail therapy experience, and the only one of its kind in Palm Beach County.  It is located just off I-95 on Palm Beach Lakes Blvd., so easy and convenient to get to.  You will be pleasantly enticed by the luxury retailers showcasing their goods.
www.downtowndelraybeach.com - This popular 'Avenue' is known for its shopping, outdoor dining and unique curb appeal.  A trip to Atlantic Avenue makes for a perfect day or evening outing.  Just park your car and enjoy a leisurely stroll along the tree-lined sidewalk.  Step inside one of the unique shops to find one-of-a-kind treasures.
www.worthavenue.com - This resort destination with European sophistication and grace has been a popular haunt for celebrities and the who's who of the US and around the world.  But don't let this fool you.  Take the time for an excursion to Worth Avenue and capture the essence of fine exclusive retailers amid historical glamour.
Restaurants
www.allmenus.com/fl/Wellington - Type in the zip code for Wellington (33414) to get a complete list of restaurants and menus.
Golfing
www.wanderersclubwellington.com
www.wellingtonnationalgolfclub.com (formerly www.binksforestgc.com)
Hospitals
Wellington Regional Medical Center - 561-798-8500
Palms West Hospital - 561-798-3300
Utilities
Water - 561-791-4000
Xfinity Cable - www.xfinity.com - 855-870-1311
AT&T - www.att.com - 800-288-2020
Dish Network - 800-823-4929
Ampitheater - 561-791-4756
Aquatics Complex - 561-753-2497
Community Services - 561-791-4056
Wellington Community Center - 561-753-2484
U.S. Post Office - 1-800-275-8777
Wellington Branch Library - 561-790-6070
PB County Tax Collector's Office - 561-355-2264
Palm Beach County School Board - 561-434-8000
Thank you for visiting my website.  I understand how complex the process of buying a home can seem, that's why I designed a website to make your home-buying experience a seamless one.
I am always just a phone-call away if you have any other questions, so please feel free to contact me directly.
Cell - 561-596-6136